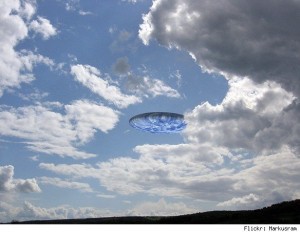 1966
• Australia, Horseshoe Lagoon: George Pedley, 27, was driving his tractor when he heard a high-pitched sound and saw a strange gray-blue craft, 8 m in diameter, 3 m high, rise from the lagoon 25 m away. It was spinning like a top, rose to 20 m, and flew to the southwest on a fast, oblique course. Flattened reeds were found in several places.
• Australia, Wycheproof: R. Sullivan was driving toward Maryborough when his headlight beams appeared to "bend" to the right. He then observed a vertical, conical beam of light in a nearby field, very white at ground level and rainbow like up to an altitude of 7 m. Top and bottom diameters: 3 and 1 m respectively. The object producing the light flew away.
• Brazil, Atafona Campos: Approximate date. The crowd at a movie projection panicked, thinking it was an earthquake, as an unknown object exploded. According to police, a sulphurous odor and a trace 25 cm deep, 35 cm wide, were noted at the site.
• Brazil, Niteroi: A woman called police to report a luminous object rising and descending on top of a high hill. When policemen climbed to the site they found the bodies of two men, electronics technicians Pereira da Cruz and Viana. The bodies had lead masks on the upper part of the face. An autopsy failed to disclose the cause of death. Investigation disclosed several earlier incidents and an organization to which these men belonged.
• Canada, Hamilton: Charles Kozens, 13, saw two objects, 2. 5 m long, 1. 2 m high, with flashing lights, land near Hamilton. When he tried to touch an antenna on one of the objects, he received an electric shock.
• Canada, Harrow: Mr. Ward saw an object 12 m in diameter and 7 m high, emitting a pulsating white light, in a field. It had a revolving section with portholes.
• Canada, Summerside: Eight members of the Royal Canadian Air Force saw a bright object that flew down at high speed, stopped abruptly, remained at ground level for 20 min, and flew away straight up. 
• France, Attigneville: Jean Voilquin, 54, saw a strange "wheel" roll 15 m away at a speed of about 30 km/h. It was about 80 cm in diameter, 25 cm thick; it rolled away and vanished.
• France, Bar-sur-Loup: The Mayor of Bar-sur-Loup, Leon Barbier, saw a large, round object with yellow and green lights on a hilltop.
• France, Bolazec: On the Morlaix-Callac Road, 23- year-old Eugene Coquil was driving his Renault Dauphine when he saw headlights in a field and observed an object come over his car and land on the other side of the road. It was square with four vertical lights resembling lamps. The witness drove away and did not see the object leave.
• France, Le Rouret: A truck driver, Mr. Dugelay, saw a disk-shaped object over Le Rouret. It remained motionless for five min, then disappeared. Its lights were alternately red and bluish-green.
• France, Montsoreau: A photographer, Mr. Lacoste, and his wife, saw a red, lighted object cross the sky and appear to touch the ground. It then rose, hovered, and disappeared. The next day a wheat field was found flattened over an area 3 m in diameter, and covered with an oily substance.
• France, Rebouillon: Rene Pebre and two others were driving back from Draguignan when they saw a gray oval, metallic object, about 5 m long, hovering at low altitude, about 300 m from them. They noticed several window-like openings on the craft, which emitted a light beam. All the dogs in the vicinity were barking.
• Italy, Pontedera: Camillo Faieta, 35, a lineman, was on duty when a light dazzled him, and he observed that it came from an object on a small island on the Emissario Canal. Two little men were seen briefly on the ground before the departure of the object. There are four other witnesses.
• Peru, Chaclacayo: Several persons reported seeing a very small creature leaving a luminous trail, quietly walking along the streets, while children and adults panicked.
• Spain, Aluche: Vicente Ortuno and another man observed a bright orange disk, about 11 m in diameter, with three legs, which came down, landed, and took off again at high speed on the "El Relajal" estate.
• Spain, Cordoba: Manuel Hernandez was coming back from the fields near Cordoba when he saw a disk-shaped object land 100 m away. Small beings resembling "green birds" came out for a few instants, then took off again.
• Spain, Aluche: Vicente Ortuno and another man observed a bright orange disk, about 11 m in diameter, with three legs, which came down, landed, and took off again at high speed on the "El Relajal" estate.
• USA, Alabama, Wilmer: A civilian had to stop his car when an object he first thought was a helicopter landed on the road about 5 km southwest of Georgetown. The craft was about 8 m in diameter, supported a cone with a flashing green light, made a loud whirring sound. It appeared to hover, then left at high speed. The witness could then restart his engine, which had died during the close approach. Sulphur or a "rotten egg" smell was noted.
• USA, California, Heraldsburg: Otto Becker, his son, and daughter-in-law woke up to find the whole house bathed in bright light, and they observed a "six-story" object at treetop level 60 m away. It gave off rainbow colors which appeared to pour off its edges "like water" in a fantastic display. Distinct engine noise was heard before it took off vertically. Domestic animals had been greatly disturbed, and the witness had inflamed eyes for several days.
• USA, California, San Francisco: Two women observed a large object with a pulsating bluish light on top, an orange light below, windows, and antennae, resting in a construction area. Silhouettes could be seen moving inside, one of them gesturing as the craft took off.
• USA, Colorado, Daniels Park: Six teenagers reported strange lights following their car as they left the site of a picnic in a state of extreme fear. An unknown man, 2. 20 m tall, wearing black clothes, had been seen passing in front of the shelter entrance and walking on the roof.
• USA, Connecticut, Norwalk: Mike Dorsey and Gary Hunt, 12 were walking to school when they saw ac circling object making the sound of humming bees. They ran for cover, trying to stop a car. The craft resembled an upside-down plate, very smooth, apparently metallic, with a black spot near the rim, a red light and an antenna-like projection, and red and white lights spinning counterclockwise. Diameter-2. 5 m, height, 1. 5 m. Minimum altitude was 2 m, held for 5 min, with a slight rocking motion. The object then took off at great speed.
• USA, Connecticut, Westport: A civilian who was going fishing saw an object dive toward his car and hover at treetop level, stopped and observed it for two min. It was shaped like two plates glued together, and had a smaller, oval object on top. It took a 45 degree inclination, rose, made a right-angle turn, and changed color (white to yellow to blue to green) as it accelerated.
• USA, Florida, Fort Pierce: Two young men were walking through a wooded area when they saw a bright object that they thought was a balloon covered with fluorescent paint but it became so intensely bright that they could not look directly at it. As they walked closer, it exploded, leaving no trace
• USA, Florida, Hague: A civilian man, 40, saw an object resting on the ground as he was going to work, less than 2 km southeast of Hague. It was an elongated craft, 2 m long, 70 cm high. When he tried to touch it, the craft left at great speed toward the west. It had six openings, 10 cm in diameter, and made a "turbine" noise so loud that the witness had to put his hands over his ears. After going away for a few meters, it vanished suddenly. Rain was falling throughout the observation, which lasted four min.
• USA, Idaho, Rexburg: Two civilians returning from a sporting event observed what they first thought was the moon. After driving for about 1 km, they saw that it was a flat, well-defined object, which had blocked the road. The object was the size of a truck and cast an intense yellow-orange light on the ground. The witnesses turned around and drove back to Rexburg.
• USA, Illinois, Hanna City: A civilian witness was driving 8 km east of Farmington when a flying oval object, the size of a car, came within 3 m of him, then circled twice and left toward the north. It emitted a bright red glow, supported a sort of dome with a green light on top, produced radio interference, and made a strange "signal-like noise. "
• USA, Illinois, Newton: A adolescent first saw a bright light, then a plate-shaped object hovering near the house. It took off at high speed, causing static on the phone as the boy was calling his mother to describe it. When she came home, she found her son in a state of shock and the dog hiding in a corner.
• USA, Indiana, Lexisburg: A civilian woman and her four children observed an oval object crossing the road as they were driving south about 15 km north of Lexisburg. It came close to the car, and a pulsating sound was heard, increasing in frequency as the object came nearer, but it seemed to come through the car radio rather than directly from the object. The witness drove away in fear, but was followed for 13 km by the object, whose color suddenly changed from reddish-orange to bluish-white before accelerating out of sight.
• USA, Indiana, Rushville: Several young witnesses reported seeing an unidentified object at low altitude.
• USA, Louisiana, Haynesville: A physics professor driving through a wooded area saw a bright, pulsating glow, changing from orange to white, in the woods about 1. 7 km away. Coming back the next day, he located traces of burns, and called the Air Force and the University of Colorado.
• USA, Maine, Bangor: John King, 22, working with the Bangor Police Department, suddenly saw above him a very bright object with a dark underside. He fired at it four times, hearing the bullets hit a metal surface as the object flew off.
• USA, Maine, Brunswick Naval Air Station: A luminous object was said to have landed in the woods. It showed flashing red, blue, and green lights. A second object was later seen to join the first one.
• USA, Maine, Kittery: A landed object was observed through binoculars by four persons. It took off, hovered for a while, and left.
• USA, Maryland, Potomac: A boy saw a disk-shaped object with a transparent dome and a row of lights, at ground level. It rose at high speed, emitting a "heat wave, "and was lost in the clouds.
• USA, Massachusetts, Ashby: Two men saw an object dive within 30 m of their car. It was silent, had a bright blue light on top, suddenly accelerated, and was lost to sight toward Mt. Watatic.
• USA, Massachusetts, Bellingham: Two women saw a cigar-shaped object, with bright, red lights at both ends, flying erratically. It made a whistling sound when moving, was silent when hovering. Minimum distance: 100 m, length, 20 m. The lights began flashing and the object went down behind some trees when five planes and a helicopter came over the area. Two of the aircraft circled the location, then flew on. The whistling sound was again heard, but the object was not seen after the departure of the planes.
• USA, Massachusetts, Beverly: A child saw a blinding, multicolored source of light making a buzzing sound as it flew over the road 15 m away from the house. It seemed to land in a field near the school. Three adults came out to calm the child and also saw the object circling and hovering. They called the police. Two officers arrived and saw the object appearing to "dance" with two other craft. All witnesses then observed the arrival of one helicopter and two aircraft, as the remaining object flew away to the southwest. Police described the object as plate-shaped when stationary above the school building. TV reception was blurred throughout the observation.
• USA, Massachusetts, Cranes Beach: Mr. and Mrs. Ronald MacGilvary saw a golden-white, luminous object resting on the beach, with two bright lights flying in and out of the craft. It went away after one hour.
• USA, Massachusetts, Dorchester: During a power failure many residents, including Robert Moses and Robert McCambly, saw an oval object with a dome on top and lights (red to white to green) around the bottom, which appeared to land on the roof of the Oliver Wendelle Holmes grammar school after a series of maneuvers.
• USA, Massachusetts, Peabody: A man saw what he thought was a crashing plane, then observed it was oval, had white, red, and green lights, flew low over him, circled, came down with pendulum motion, and appeared to land on Route 114. At midnight, two men driving along that route saw a beam sweep the road, stopped, and saw the object in a field. It was a disk with a white, a green, and three red lights. The two reports were independent.
USA Ann Arbor Michigan College coeds at the dorm in Ann Arbor have repeated sightings of UFOs.
• USA, Minnesota, Bagley: Several people were said to have observed an object fly at low altitude and land outside Bagley. Four dwarfs seemed to make repairs, then the craft flew away.
• USA, Michigan, Battle Creek: An egg-shaped object, 25 m long, 5 m high, gray-colored, was observed from a distance of 25 m by a 42-year-old witness driving a car. The object supported a cockpit with windows and three rows of lights, emitted red flames, and made the same noise as a heavy truck on wet pavement. The object followed the car for some time.
• USA, Massachusetts, Bellingham: Two women saw a cigar-shaped object, with bright, red lights at both ends, flying erratically. It made a whistling sound when moving, was silent when hovering. Minimum distance: 100 m, length, 20 m. The lights began flashing and the object went down behind some trees when five planes and a helicopter came over the area. Two of the aircraft circled the location, then flew on. The whistling sound was again heard, but the object was not seen after the departure of the planes.
• USA, Michigan, Dexter: Frank Mannor and his son, Ronald, saw a luminous object hovering over a swamp. It was described as brown, with a "scaly" surface, cone-shaped, and showing bluish lights that turned red. Then the whole object lighted up with a yellowish glow and flew away at high speed with a whistling sound.
• USA, Michigan, Hillsdale: William Van Horn, Civil Defense Director, and a group of students observed a pattern of lights on the ground. The source of the light appeared to maneuver for about two hours.
• USA, Michigan, Milan: A police officer observed an object in the southwest. He thought it was a plane about to crash, although no sound was audible. He tried to contact the police headquarters, but his radio transmitter did not work properly. The object, which now had colored lights spinning at the periphery, and a diameter of 16 m, came within 25 m of the patrol car, following it for 1 km, then flew off toward the north-west. The witness had been a policeman for 10 years, and had never seen anything like that object.
• USA, Michigan, Milan: The policeman who had observed an object over Milan on Mar. 17 saw an unidentified machine on the ground at a street intersection. He drove toward it with his headlights illuminating the object, which took off like an airplane, flying away to the southeast. Investigation by Selfridge AFB.
• USA, Michigan, Washtenaw County: Between March 14 and 20, Washtenaw County sheriffs and police in neighboring jurisdictions reported disc-shaped objects moving at fantastic speeds and making sharp turns, diving and climbing, and hovering. At one point, four UFOs in straight-line formation were observed. Selfridge AFB confirmed tracking UFOs over Lake Erie.
• USA, Michigan, Vicksburg: A man driving home saw lights on the road and discovered a gray, lens-shaped object hovering at 1 m altitude. It had one intense white light and three colored flashing lights. Driving within 2 m of it, he became afraid and backed up, but the object suddenly flew over and behind him. A noise similar to that of a swarm of bees was audible. It left at high speed toward the east.
• USA, Missouri, Liberty: Darlene Underwood and her mother saw two starlike objects land in a field. One of them rose rapidly when a train came into view. It went behind a hill, while the second one hovered at tree height with its lights off. When the train had passed, both objects landed again and two manlike shadows were seen. Voices shouting in a foreign language and what sounded like a pig being butchered were heard. Light signals.
• USA, New Jersey, Bavonne: Two local businessmen observed a dark, gray, metallic sphere, from the top of which projected a dozen "tentacles" over 2 m long, flying at about 40 m altitude and then coming down behind a house. It was assumed that it plunged into the bay, but a search by patrol boats was unsuccessful.
• USA, NewYork, Durhamville: A woman was awakened by a flash, thought her heater had exploded, but found everything in order. The next day she was told that a pulsating, luminous object had flown at very low altitude over her trailer, circled and left. Three witnesses. Low buzzing sound.
• USA, New York, Franklin Springs: A man saw an object descend from a cloud bank, slow down, and land with a soft whirring sound. It showed three horizontal bands of light-blue, red and green.
• USA, New York, Hamburg: A 61-year-old civilian woman was reading when an intense red light illuminated the ground near her house. She went outside and saw a lighted object 20 m away 1 m in diameter, which backed up and flew away "like a bullet. " Three other persons saw it from the next house.
• USA, New York, Lake Tiorati,: The west side of the Hudson River, three fishermen noticed an unusual circular metallic flying object. One of the men grabbed a box camera and managed to snap four pictures before it flew away over Stockbridge Mountain.
• USA, New York, Lycoming: A civilian woman, 42, went to get a glass of water in her kitchen and saw a spinning object, 3 m in diameter, 6 m above ground near her house. It departed very suddenly, leaving a trail.
• USA, New York, Oswego: Several civilians reported an object that flew slowly toward the south, hovered, came within 15 m of them, and finally flew off toward the southwest.
• USA, North Carolina, Mount Mitchell: Four campers saw an object with three flashing red lights land on the ground 200 m away. It remained there all night, rose at dawn, was then observed through binoculars as a red-colored, bell-shaped craft. Broken trees and other traces were found.
• USA, North Carolina, Vancehars: A man driving between Greenville and Vancehars saw a glow in the woods and was followed by the light even at speeds of 170km/hr. He finally stopped to observe it, but became afraid when he saw that it came from a pulsating object that flew within 100 m of the car, 15 m above ground. The color changed in sequence, orange to red to blue to green, and the object wobbled on its axis. It came within 30 m, then suddenly left straight up.
• USA, North Dakota, Donnybrook: A border patrolman saw a bright, shiny disk on its edge, 10 m in diameter, 5 m high, floating down the side of a hill, wobbling from side to side 3 m above ground. It reached the valley floor, climbed to about 30 m, and moved across to a small reservoir where it assumed a horizontal position. A dome then became visible on top of the disk. It hovered for one min and seemed about to land less than 80 m away, but tilted back on edge and flew into the clouds at high speed.
• USA, North Dakota, Minot Air Force Base: An airman observed and reported by radio a multi-colored light high in the sky. A strike team was sent to his location and confirmed the unknown. A second object, white, was seen to pass in front of clouds. At the radar base, an object was detected and tracked. The observations lasted nearly 4 hours and were confirmed by three different missile sites. Radio interference was noted by teams sent to locations where the object was sometimes described as hovering at ground level.
• USA, North Dakota, Stirum: A child of 11 years saw a disk-shaped object land near a farm. It had a tripod landing gear, two red lights, two white and one green light, and a transparent dome. A businessman from Gwinner and an Air Force Lt. Col. went to the site and discovered three traces, apparently left by spherical objects, 18 cm deep, very compact. Radiation measured at 0. 1 milliroentgen (normal). The child reported that the object "went away so fast that it vanished. "
• USA, Ohio, Mansfield: An anonymous witness saw a round object with two lights land near the Ohio State University campus. A door opened and a very thin, child-sized figure was seen. The object then began to move toward the witness's car and rose rapidly.
• USA, Ohio, Toledo: A civilian man, 43, driving west between Kansas and Toledo, saw an object appear out of nowhere. It was cigar-shaped, bright metallic, and flew low to the northeast. Minimum distance: 30 m. The object was completely silent, and the size of an airliner.
• USA, Oklahoma, Tangier: A civilian man, 34, was driving about 10 km south of Tangier when he reached a hilltop and saw a green object flying north at very high speed, emitting a shrieking noise and a "heat wave. " The car engine died. The witness noted that the object was wider than the road.
• USA, Oklahoma, Temple: An electronics instructor, who was driving to work at a local Air Force Base, observed an object blocking the road. It was shaped like an airplane fuselage, 25 m long, with a "bubble" on top resembling the canopy on a B-26, rested on legs, and had very bright aft and forward lights. There was a door and a short stairway to the side of the object, and a man in coveralls appeared to be examining the craft which bore the identification "TL 4768" (see case 417). When the witness approached, the "pilot "went back inside, a sound resembling that of a high-speed drill was heard, and the object rose. No engine was observed. The witness was familiar with all conventional military aircraft.
• USA, Oklahoma, Texahoma: Two civilian women were driving back from Amarillo when they saw an object approaching from the north. The engine died and the headlights failed. The object flew over the car and hovered 400 m away. After 10 min, the witnesses were able to start their car and leave. They reported the object had a waffle-like surface and glowed with an intense red light.
• USA, Pennsylvania, Erie, Preque-Ile Park: Young witnesses reported an object flying erratically and landing 300 m away. It had the shape of a mushroom and swept the area with a light beam. A strange being, 1. 80 m tall, was seen. Police report.
• USA, Pennsylvania, Greensburg: A civilian man, 43, saw a well-defined object 5 m above ground, 100 m away. It showed a flashing red light, rose, was lost in the fog, then came back at treetop level with a strong whistling sound. Its shape was that of a cigar, 15 m long. It had no wings, tail assembly, or wheels.
• USA, Pennsylvania, Union-Kirkwood: Two civilian women saw a red, luminous object 30 m away in a field. It had small openings and made a whirring sound. Length, 30 m; height, 6 m; duration, 90 min.
• USA, Pennsylvania, West Point City: Two witnesses observed a stationary object 3 m above ground. It had a diameter of 7 m, lights on top and bottom and smaller lights at the rim. It flew away very fast to the east.
• USA, South Carolina, Gaffney: Patrolmen A. G. Huskey and C. Hutchins saw a dark, spherical machine with a flat rim land near them. Estimated diameter: 7 m. An opening and a short ladder became visible, and a small man, dressed in a shiny gold suit, emerged, came within 6 m of them, and spoke in perfect English before taking off.
• USA, Tennessee, Alto: Two civilian men stopped to watch an object hovering above a swamp, tried to follow it, but it flew away. They observed that animals (cows, dogs, horses) were restless in all the areas that the object crossed. A photographic reconstitution by the U. S. Air Force showed an oval object, 30 m long, flying at 5 m altitude, between a high-tension line and a row of trees.
• USA, Tennessee, Fayetteville: A man driving at a speed of about 100 km/h suddenly encountered a large lighted object 1 m above the road on a hilltop. It flew off, as the car engine and headlights died. The light bulbs had to be replaced. The object was oval, 7 m long, dark gray, and showed about 30 lights along its periphery.
• USA, Texas, El Campo: A police officer was driving at nearly 200 km/h toward the north on Route 71 when he suddenly saw an object on the road ahead and another one following his car. The first one looked like a flaming car and was the size of a 3-story house. It flew
• USA, Texas, El Campo: Mrs. Mark deFriend, 32, saw an object at ground level in front of her car on a rainy night. It would leave the road and fly over the fields from time to time. The greenish-blue object flew back in front of the car, then was lost to sight behind some trees.
• USA, Texas, El Campo: Two witnesses observed a dark, red object land by the side of the road, later following their car.
• USA, Texas, Millersville: A person in a car saw an oval object the size of a car follow his vehicle, then cross the road behind it at 5 m altitude. The object reflected sunlight.
• USA, Texas, Pecos: An elongated object about 30 m long and 9 m high was reported to have landed near a highway for 5 min.
• USA, Texas, Pedernales River: Tom M. Lasseter, architect, was camping near the river when he was awakened by a fluttering sound and observed a glowing white disk, 7 m in diameter, at treetop level 60 m away. It had a row of lights.
• USA, West Virginia, Follansbee: A young man saw a silent object shaped like two bowls glued together, 30 m altitude, ahead of his car. Estimated diameter:10 m. He drove away without looking behind.
• USA, West Virginia, Fork: James Roberts saw two round pinkish-red objects on a hillside near his home. He fled when they took off with a hissing sound emitting streams of fire.
• USA, West Virginia, Parkersburg: W. Derenberger, sales- man, saw a dark object ahead of him on the road. It was flat on the bottom and rounded on top. As he stopped, the object came within 20 cm of the road surface, and a man of dark complexion, dressed with a shirt and ordinary trousers, both a shiny blue color, came out, smiled at the witness who then thought that he received a message, although no word was spoken. The message described a hypothetical "other world" and suggested that the observation be reported to authorities. The man also promised to return. Several people who drove by the witness did report seeing a man speaking to him, as well as a strange vehicle nearby.
• USA, Wisconsin, Durand: About 15 km east of Durand, Mrs. E. Bruns and her two children observed an elongated object, about 10 m long, with revolving lights, hovering 1 m above ground and making a deafening noise. After 30 sec, it tilted and took off.
• USA, Wisconsin, Sheboygan: Two women saw a glowing object on the road. As they came near it, they found that it hovered and showed two intense white lights, as well as a green and red light. The object was bowl-shaped, and they lost sight of it when they drove away. They saw it again later, flying low on a south-north trajectory.
• Venezuela, Barinas: Three hunters, E. Beucomo, J. Zapata and J. Ramos, observed a strange glow in the forest and discovered a very large, egg-shaped object, stationary 2 m above ground. It had large, circular openings emitting a multicolored light, and it made a whistling sound. The hunters ran away.
• Venezuela, Marisela Caracas: A man observed the landing of an oval object and two beings, who came out of the object through a system of light beams. They used strange instruments to examine a number of objects, especially plants. They were 2 m tall, had oversized heads, appeared bright and "transparent. " Their eyes were slanted, their shoulders very broad. They wore no apparent weapon, but their belts were very wide and emitted light rays. They did not touch anything without first illuminating it with these beams. They went back aboard their craft "as if carried by the light. "
• Major Hector Quintanella, director of USAF's Project Blue Book, says a total of 1,060 reports of unidentified flying objects were submitted to USAF during 1966, the second highest year's total since Blue Book began keeping records 20 years ago. The record high of 1,501 was in 1952; the annual average is 555. Of the 11,107 reports since 1947, 676 remain unidentified, 30 of them from 1966.
1966 Project Blue Book Unknowns
• USA, Alaska Oct. 26, 1966; Cold Bay Air Force Station, Alaska. No time given. Witness: civilian control tower operator Ralston. One white object approached runway at 50′ altitude. Runway lights were then turned on, and object accelerated and climbed away so fast that witness was unable to use binoculars. Sighting lasted 3 seconds.
• USA, Alabama Aug. 26, 1966; Gaylesville, Alabama. 8:50 p.m. Witnesses: Mr. and Mrs. Funk and their three children. A cluster of four small, glowing, orange-yellow lights in a triangular formation, moved from east to west for 4.5 minutes.
• USA, California April 30, 1966; Sacramento, California. 3:15 a.m. Witness: Anita Miller. One light moved around the sky for 2.5 hours. No further detail in files.
• USA, Florida March 20, 1966; Miami, Florida.. 12:15 a.m. Witness: USAF Res. Maj. K.C. Smith, employee of NASA at Cape Kennedy. One pulsating light which varied from white to intense blue made a jerky ascent and then rapidly accelerated away to the north after 5 minutes.
• USA, Michigan Feb. 12, 1967; Grand Rapids, Michigan. 3:40 a.m. Witness: Mr. Lou Atkinson. Four fluorescent, football-shaped objects, a dull, almost grey luminous color; flew northeast in a very rigid formation for 4-10 seconds. Made a chirping noise.
• USA, Michigan Nov. 8, 1966; Saginaw, Michigan. At night. Witness: college graduate Annis. A group of lights that flashed and changed color hung stationary, almost touching the road, and would abruptly vanish during the 5 minute sighting.
• USA, New York April 5, 1966; Lycoming, New York. 3 a.m. Witness: Lillian Louis. One vapor-like sphere hovered and spun at low altitude, shooting its exhaust onto the ground below. Sighting of 1 minute.
• USA, New York Oct. 23, 1966; Southhampton, Long Island, New York. 6 p.m. Witness: Mr Acquino. One object with arms in front of it which sparkled like an arc-light. Traveled south along some power lines, then turned southwest. Made a slight humming sound during the 4 minute sighting.
• USA, New York Sept. 6, 1966; Suffolk County AFB, New York. 6:50 p.m. Witnesses: Stahl and Ladesic. One white cylinder of light came from the east at high speed, stopped and hovered for 3 minutes, and then turned and slowly disappeared. Sighting lasted 8 minutes.
• USA, New York Sept. 1, 1966; Willsboro, New York. 2:45 p.m. Witness: T.H. Ridman. One oval object with lights that flashed red and white and occasionally blue, travelled west, then disappeared downward. It returned, several minutes later, at which time a loud noise was heard. The entire sighting lasted 30 minutes.
• USA, North Carolina June 18, 1966; Burnsville, North Carolina. 12:30 a.m. Witnesses: members of a Boy Scout group, including Sterrett. One bell-shaped object with three flashing red lights hovered for 5 hours and was then joined by six others.
• USA, North Carolina Feb. 2, 1966; Salisbury, North Carolina. 11:15 p.m. Witnesses: Mr. and Mrs. L.J. Wise. One silver, diamond-shaped object with several balls constantly in very fast motion around it, and much light. Object hovered over the trees for 3-4 minutes, while a dog barked, and then zipped out of sight. Sighting lasted 1 hour.
• USA, North Carolina July 25, 1966; Vanceboro, North Carolina. 1 a.m. Witness: college student James Clark. One object which changed color from orange to red to blue to green and back to orange. Followed witness' car at high speed, then stopped and hovered over the car. Rose and flew up and out of sight in less than 5 seconds. Entire sighting involved about 1 hour.
• USA, North Dakota Aug. 19, 1966; Donnybrook, North Dakota. 4:50 p.m. Witness: U.S. Border Patrolman Don Flickenger. Round disc with domed top, 30′ in diameter and 15′ high, colored white, silvery or aluminum. Moved across a valley from the southeast, hovered over a reservoir, appeared to land in a small field, then rose up into clouds very rapidly. Sighting lasted 5 minutes.
• USA, North Dakota Sept. 13, 1966; Gwinner, North Dakota. 7:30 a.m. Witness: Rotenberger. One silvery-grey ellipse with a clear bubble protruding from its top, hovered about a mile away, then landed within 300 yards and took off very fast. It made a low-pitched whine during the 5 minute sighting.
• USA, Oklahoma March 23, 1966; Temple, Oklahoma. 5:05 a.m. Witness: W.E. Laxson. One large object, like a wingless C-124 transport plane; 75′ long, 8′ high and 12′ wide; with a bubble canopy on top. Sat on highway, a man dressed in military work clothes entered, and it rose after about 40 seconds.
• USA, Oklahoma March 26, 1966; Texhoma, Oklahoma. Midnight. Witnesses: Mrs. P.N. Beer and Mrs. E. Smith. One flashing light buzzed their car from the front then hovered. Sighting lasted l0 minutes.
• USA, Ohio Aug. 23, 1966; Columbus, Ohio. 77 p.m. Witnesses: Broomall and Gilpin. One circular, luminous white object split into five objects and all streaked away toward the west. Sighting lasted 15 minutes.
• USA, Ohio June 8, 1966; Kansas, Ohio. 6:45 a.m. Witness: Max Baker. One bright silver, cigar-shaped object, as long as an airliner, buzzed the witness' car. Sighting lasted 1 minute.
• USA, Ohio Sept. 28, 1966; Wilmington, Ohio. 3:38 p.m. Witness: Clarke. Three round, oval-shaped, aluminum-colored objects with rotating rings around them. Two remained stationary, while the third varied its altitude during the 90 second sighting.
• USA, Oregon Dec. 25, 1966; Monroe, Oregon. 33 a.m. Witnesses: civilians and military persons. Three round objects, as large as cars, gave off vapor, then became three bright reddish-orange lights. Blast at beginning of 90 minute sighting pushed one witness against a car.
• USA, Pennsylvania July 31, 1966; Presque Isle State Park, Pennsylvania. 7:25 p.m. Witnesses: Douglas Tibbetts, 16; Betty Klem, 16; Anita Haifley, 22; and Gerald Labelle, 29. Square or hexagonal object with edges lit or reflecting light, came tumbling down from right to left. Stopped 5-10′ above the beach and settled heavily down; circle of spotlights at top were visible when it was on the ground. Sighting lasted 5 minutes. .
• USA, Pennsylvania July l1, 1966; Union, Pennsylvania. 7:45 p.m. Witnesses: Carl Wood and Charles Hawthorne. One large (100′ wide, 20′ high) bright red object with small windows and yellow lights. The object emitted a humming noise, seemingly from the outside, and a qrinding noise which seemed to come from inside. Observed for 1 hour.
• USA, Tennessee April 5, 1966; Alto, Tennessee. 11:55 p.m. Witness: W. Smith. One oval object with a dark top, appeared cone-shaped when moving. It made a high-frequency noise during the 2.5 hour sighting.
• USA, Texas May 7, 1966; Goodfellow AFB, Texas. 9:55 p.m. Witness: A/3c W.L. Whitehead. One short, cylindrical object with pointed ends and a yellow light at one end and blue light at the other, flew straight and level for 35 seconds.
• USA, Texas March 22, 1966; Houston, Texas. 1:30 a.m. Witness: S.J. Musachia. White flashing lights, and the air full of smoke. Lit up witness' apartment. Sound of "yen " heard up close during 4 minute sighting.
• USA, Texas Feb. 6, 1966; Nederland, Texas. 5:45 a.m. Witnesses: Mr. and Mrs. K.R. Gulley. One yellow, lighted object at 500; altitude and a pulsating red glow on the lawn. The house lights went out, and high frequency bothered the witnesses' ears. Sighting lasted 5-10 minutes.
• USA, Wisconsin Oct. 5, 1966; Osceola, Wisconsin. Witnesses: several members of one family. One small, bright orange, moon-shaped object remained stationary in the northeast for about 20 minutes, then suddenly took off very fast to the WNW.
• USA, Wisconsin June 6, 1966; Spooner, Wisconsin. 9:30 p.m. Witness: Dorothy Gray. Two domed discs with sparkling upper surfaces and square windows in their tops, revolved above a lake, apparently causing strange behavior of the lake water during the 25 second sighting.
• Wake Island June 27, 1966; 400 miles east of Wake Island (19* N., 172* E.). 4 a.m. Witness: Radio Officer Steffen Soresen, of the S/ Mt. Vernon Victory. One "cloud" expanded with a light inside, and then accelerated away after several minutes.
New York Sept. 9, 1966; Franklin Springs, New York. 9 p.m. Witness: Jacobson. One solid object, larger than an army tank, with lights all around it, made a low humming sound and disappeared into woods at the end of the 30 minute sighting.