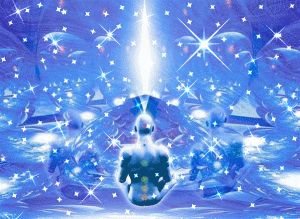 To those who seek within the darkness –
Searching for that spark of Light –
Turn your gaze to deep within you –
And find the treasures brought through time.
*
Yours is not an easy pathway –
Yet you chose it long ago –
Long before there was an earth plane –
Long before the sands of time began to fall.
*
Seasons of your soul evolve you –
Bring you closer to the Light –
As a moth to flame you flutter –
Reaching for what's yours by right.
*
As by Light you are enfolded –
Journeys end is not in sight –
Another pathway opens to you –
And once again your beacons light.
*
As long ago you once gathered –
Those who wandered with no sight –
Once more you shine the Light of welcome –
To enlighten others by your flight.
*
Words will fall on empty ears –
But actions fly with ease and truth –
Tis not the tongue that brings the wisdom –
Rather the pathway, silently walked in joy and Light.
*
Celebration – Light and laughter – T
each the joy of evolution and creation –
Shed the radiance of the inner Light!
Scroll Through More Poetry....