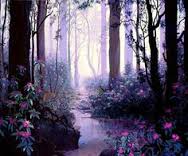 Out of time are you called by a memory rich –
It reaches within and sounds a chime –
That rings throughout eternity.
A call to remembrance, a call to wisdom –
Of secrets guarded and memories shared –
Of goals now met and purpose renewed.
You are charged once more to carry the flame –
To light the way and guard the light –
For those who follow, for those who seek –
Reborn – renewed- you meet the challenge and set the pace.
  A barrier crossed – a burden lifted –
You rise above – and see the light –
It shines through you – a soul most gifted –
It brings you peace – and crystal sight.
*
Scroll Through More Poetry....