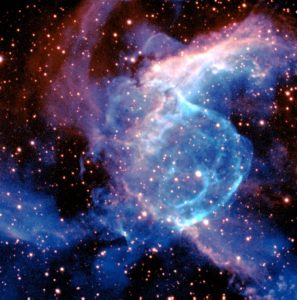 Are You A Star Person?
The following article was sent to me by a friend in the early '80's.  I found it again on several other sites on the Internet … thought you might be interested, No author was sited.
The characteristics below manifest as a result of a higher dimensional, more advanced soul of extraterrestrial origin taking earth embodiment, either as an incarnate at the moment of birth, or as a "walk-in" – a soul transfer in later years. These Volunteers bring with them a higher frequency, more intense level of energy and consciousness than that of the average soul here on earth would usually manifest.
This energy consciousness level affects the DNA-RNA genetic code. Depending upon how much of this energy is able to be retained on the physical level of earth, after taking earth embodiment, is how many of these characteristics a Volunteer will be able to manifest. Such things as how pure one's diet is, along with environmental conditions and how intense the limited mundane sociological-psychological earthly programming has been, is what helps determine how much of this higher consciousness will be able to be grounded within the physical earth body.
Most Star People or Volunteers usually tend to have at least several to a 1/3 of the total number of these characteristics, and many others sometimes have many more depending upon their awareness, diets and interests.
In a few instances, some Star People may only have very few of these characteristics, because as stated, the lack of purity in one's diet, along with other environmental toxins, many pharmaceutical drugs or intense negative psychological programming can have a type of "numbing-dumbing affect" upon one's awareness – actually blocking most of this higher energy from being able to manifest within the individuals earth body.
The original research about this subject, was first conducted by Brad Steiger, a well-known author and psychic, UFO researcher, back in the 1970's, after working extensively with NASA engineers and scientists, as well as other people from all walks of life.
Do you have some or several of the characteristics or traits listed below? if so, then you too–are one of those termed "Star People".
– FEEL LIKE "A STRANGER IN A STRANGE LAND."
– COMPELLING EYES AND PERSONAL CHARISMA.
– UNUSUAL BLOOD TYPE, OR EVEN A COMBINATION OF BLOOD TYPES.
– LOWER THAN NORMAL BODY TEMPERATURE.
– EXTRA VERTEBRAE, TRANSITIONAL VERTEBRAE, FUSED VERTEBRAE, OR LOWER BACK PAINS.
– EXTRA OR "MISPLACED" RIBS.
– HYPERSENSITIVITY TO ELECTRICITY, ELECTROMAGNETIC FORCE FIELDS.
– LOWER THAN NORMAL BLOOD PRESSURE.
– UNUSUALLY SHARP HEARING, AND EYES VERY SENSITIVE TO LIGHT.
– CHRONIC SINUSITIS (IRRITATION IN NOSE OR NOSTRILS).
– THRIVE ON LITTLE SLEEP AND DO THEIR BEST WORK AT NIGHT.
– WAS AN "UNEXPECTED" CHILD.
– SEEM TO HAVE BEEN "REBORN" IN CYCLES, FOR EXAMPLE, 1932-38, 1942-48, 1952-58, 1962-68, ETC.
– FELT THAT THEIR EARTH MOTHER AND FATHER ARE NOT THEIR TRUE, REAL PARENTS, AND THEY LONG OR YEARN FOR THEIR TRUE PLACE OF ORIGIN.
– HAD A DRAMATIC OR UNUSUAL EXPERIENCE WHEN THEY WERE VERY YOUNG, WHICH OFTEN TOOK THE FORM OF A WHITE LIGHT AND/OR VISITATION BY BEAUTIFUL AND BENEVOLENT HUMAN APPEARING BEINGS WHO GAVE INFORMATION AND COMFORT.
– COMPLAIN OF A FEELING OF GREAT URGENCY, A SHORT TIME TO COMPLETE AN IMPORTANT GOAL OR A SPECIAL MISSION.
– EXPERIENCE A BUZZING, RINGING OR A CLICKING NOISE OR A HIGH PITCHED MECHANICAL WHINE IN THE EARS PRIOR TO, DURING, OR AFTER SOME PSYCHIC-SPIRITUAL EVENTS OR A WARNING OF DANGER.
– HAD UNSEEN COMPANIONS AS A CHILD.
– HAVE HAD CONTACT WITH ANGELS, MASTERS, ELEMENTAL NATURE SPIRITS, SPIRITUAL TEACHERS, OR OPENLY DECLARED UFO INTELLIGENCE'S.
– HAD ONE OR MORE SERIOUS ACCIDENTS, ILLNESSES, TRAUMATIC EXPERIENCES, CLOSE CALLS OR LIFE THREATENING SITUATIONS IN WHICH THEY SHOULD OR COULD HAVE DIED, BUT FULLY OR QUICKLY RECOVERED.
– FELT OR SENSED THAT THEY WERE BEING WATCHED OVER AND DIVINELY PROTECTED.
– HAVE UNUSUAL ABILITIES WHICH ARE CONSIDERED PARANORMAL BY THEIR PEERS AND THEIR FAMILY.
– HAVE NATURAL OR UNUSUAL ABILITIES IN SPECIALIZED AREAS, SUCH AS ART, MUSIC, MATHEMATICS, ACTING, NATURAL SCIENCES, HEALING, ETC.
– THEIR ARTWORK, DREAMS OR VISIONS OFTEN INVOLVE AN OUTER SPACE, MULTI-MOON OR MULTIDIMENSIONAL, INTERPLANETARY ENVIRONMENT.
– CHILDREN AND ANIMALS ARE OFTEN ATTRACTED TO THEM.
– FEEL THAT THEY ARE ONE OF THE "144,000."
– MAY HAVE MYSTIC CROSSES, MYSTIC EYES, OR MYSTIC STARS ON THEIR PALMS.
– EXPERIENCE A STRONG ATTRACTION TO NATURAL QUARTZ CRYSTAL AND GEMSTONES.
– OFTEN HAVE FLYING DREAMS OR OUT-OF-BODY EXPERIENCES.
– HAVE A STRONG AFFINITY TO PAST ERAS OF ATLANTIS & LEMURIA, ANCIENT EGYPT, BIBLICAL TIMES, KING ARTHUR & CAMELOT, AND OF REMEMBERING PAST LIVES DURING THOSE PERIODS.
– FEEL A SPECIAL ATTRACTION OR DRAWING TO THE PLANET VENUS, THE PLEIADES, THE ORION CONSTELLATION, OR OTHER CELESTIAL LOCATIONS, AS WELL AS KNOWING DEEP WITHIN THAT THEIR REAL HOME IS SOMEWHERE BEYOND THE STARS.
– THEY ARE USUALLY STARRY-EYED ROMANTICS.
– OFTEN SEEM TO TAKE ON THE ROLE OF BEING AN EMPATH.
– HAVE OFTEN EXPERIENCED, WHEN GLANCING AT A DIGITAL CLOCK OR WATCH, THAT THE TIME, HAPPENED TO BE AT "11:11."
– HAVE RECEIVED THE MESSAGE OR FEELING FROM INNER GUIDANCE OR FROM THEIR UFO CONTACTS THAT "NOW IS THE TIME!"